New Overwolf version – the TouchFox edition!
A blessed day to ya'll!
It's been ages since I last wrote…
I won't keep you long this time, and just tell you that our virtual touch controllers (branded TouchFox) have come out of beta, and are now available for purchase on the Green Man Gaming store, alongside your favorite games. Continue

3..2..1..Action!
Ladies and gentlemen,
It's time to unleash your inner Scorspeilberg with the Overwolf video recorder update.
Some of you might be excited beyond what's humanly possible, as it's been the most requested feature for some time now, but I'll ask you to hold off on fainting, as we don't have the appropriate medical insurance.
The updated video recorder features: Continue

Kablam!
Break into your dad's liqueur cabinet, get a couple of kegs, as much junk food as you can get your hands on, about 5 cases of energy drinks, and get ready for a streaming party.
Twitch finally made its way into Overwolf!
Some of you may have found Twitch hiding (perhaps not so well) in our previous version. This time around it's definitely not hiding, and it also received great features, for your streaming pleasure: Continue

Check out the new Faceit app!
Overwolf is proud to present a new app with Faceit!
FACEIT is the premier destination for gamers to compete on their favourite games for cash, points and prizes. They allow gamers to easily play tournaments and leagues and get rewarded for their efforts and skills with real life prizes. Continue

Hey everyone!
With our recent version being released, we introduced a bug that many of you have encountered, the dreaded "Failed to start application, please contact support" bug.
I'm happy to let you all know that we solved the issue and you can now download a fixed version. Continue

What's up?
In a recent update of ours, we realized there is a bug that happens eventually to our users that makes Overwolf not be able to run and gives the error message "Failed To Start Application, Please Contact Support." Continue
Hello everybody!
If you were having some issues over the last day with the signature app, Overwolf chat or app installations we apologize. We had some trouble on our end with our servers and fixed them.
The only thing that still isn't up and running 100% is the MySignature app, so please  bear with us while we fix it too! We'll keep you guys updated when it gets fixed.

Waddup playas and playettes?
In this version, we have some #swag updates to Overwolf.
The sickly, weird looking tray icon, and his partner in crime, the boring, gray tray menu have been awarded the fugly awards, with the prize being a pimpin' fresh makeover.
We took them out to the gym for some shaping-up, slapped a fresh coat of paint and buffed them out to a stylish mirror finish, so haters can see their hatin' reflection in it #Steeze. Continue
Hey all!
We've got all those emails, and messages so we just wanted to get a quick update out, we are having some technical difficulties with our Overwolf chat servers that are coming online and going down every so often due to the sheer amount of users that we're getting logging in (our servers apparently don't lift).
While our raid team is geared up and fighting their way to fix that server, you guys can keep gaming since nothing else is affected.
Update – We've fixed the issues with the servers and it should be smooth sailing from here on out!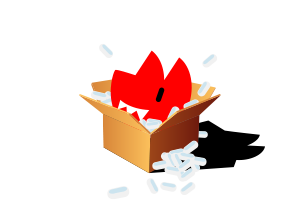 Mahalo dudes and dudets,
Let me tell you a story about the little Overwolf version that could(n't) even give me enough material for a blog post, therefore I'll share some anecdotes about my life instead (not really).
A substantial life enhancer added in this version is the fix to Steam's security code mechanic. Starting from this version we'll only require the Steam security code once. Any subsequent login will land you safely in your friend list, rather than sending you on a scavenger hunt in the mailbox. Continue