Another Overwolf version is out there…
This one contains mostly stability fixes, but also many preparations for some uber-awesome-epic features that are coming soon.

Forging ahead with Overwolf!
It's that time again! A new version of Overwolf is here and so are some new features! We're upping the pace that we do releases as we want to get these fixes out to you all sooner. You're probably wondering, what could they have done in such a short amount of time?

Summer is here, and so is a new version of Overwolf!
This release is a little small, but chock full of background fixes to make Overwolf more stable and set up some surprises for the future (no spoilers today sorry!).
So, what do we have this time? Continue
Bring Your World into Warface with Overwolf
We at Overwolf are excited to tell you guys that we've partnered up with Crytek and Warface to bring you all the best gaming experience possible! Continue

Changes on the horizon
This release is a little different than before. When we sat to plan out this release, we decided that this release will be focused all around making Overwolf more stable and run much smoother. So to do that, we've been gathering info on the top things that bother people and bugs that have been seen and set out to fix them. Let's get started!
Hey all!
I'm happy to update you that we finally understood what causes FPS drops for some of you. We've been working hard at trying to recreate this on over 30 different computers with vastly different specs with no luck. However, we now discovered that there is a Microsoft bug for WPF apps with transparent windows (like Overwolf) which leads to FPS drops in games. Continue
Ready for change?
Everyone has their own style, and now you can show it off even on your Overwolf. You'll now be able to download custom made skins for Overwolf! These skins will completely transform your Overwolf's looks and sounds! You'll be able to find them in the Appstore under its very own "Skins" category.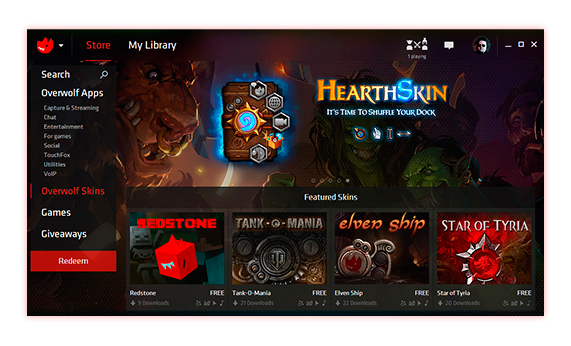 Continue
Hey peeps,
You ready for the next level of our Twitch streamer?
We listened, watched, asked and learned all the things you guys wanted out of our Twitch streaming app and added as many as we could in. We're taking it to the next level, and we won't stop here. Wanna know what's up? Look no further. Continue
Hey guys and gals,
A new Overwolf version is upon us, this time we're setting up for the big launch of our new Appstore.
Yeah, you've heard it. Google, Amazon, and Apple have those big, bright, and beautiful stores, and now – we do too! Continue

Hello everyone!
This is a quick version release with added support for 'focus on app open' for app developers.
We would also like to share an exciting announcement – our partnership with ZAM networks! We're teaming up to step up your in-game experience! Check out the new ZAM Search app that will help you find whatever you need across all the ZAM websites. You can find the app on the Overwolf Appstore.
See the app in action:
Expect a new Overwolf version with super exciting features in the next week or so.
Peace out,
Viking!