Changes on the horizon
This release is a little different than before. When we sat to plan out this release, we decided that this release will be focused all around making Overwolf more stable and run much smoother. So to do that, we've been gathering info on the top things that bother people and bugs that have been seen and set out to fix them. Let's get started!
Hey all!
I'm happy to update you that we finally understood what causes FPS drops for some of you. We've been working hard at trying to recreate this on over 30 different computers with vastly different specs with no luck. However, we now discovered that there is a Microsoft bug for WPF apps with transparent windows (like Overwolf) which leads to FPS drops in games. Continue
Ready for change?
Everyone has their own style, and now you can show it off even on your Overwolf. You'll now be able to download custom made skins for Overwolf! These skins will completely transform your Overwolf's looks and sounds! You'll be able to find them in the Appstore under its very own "Skins" category.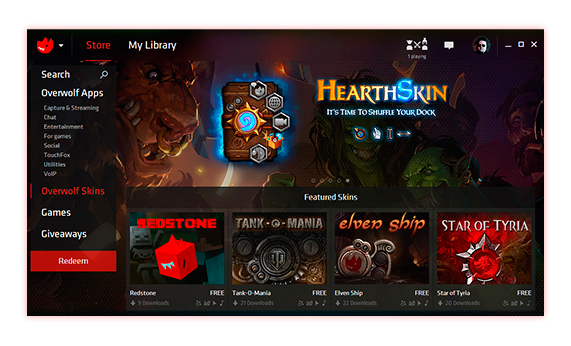 Continue
Hey peeps,
You ready for the next level of our Twitch streamer?
We listened, watched, asked and learned all the things you guys wanted out of our Twitch streaming app and added as many as we could in. We're taking it to the next level, and we won't stop here. Wanna know what's up? Look no further. Continue
Hey guys and gals,
A new Overwolf version is upon us, this time we're setting up for the big launch of our new Appstore.
Yeah, you've heard it. Google, Amazon, and Apple have those big, bright, and beautiful stores, and now – we do too! Continue

Hello everyone!
This is a quick version release with added support for 'focus on app open' for app developers.
We would also like to share an exciting announcement – our partnership with ZAM networks! We're teaming up to step up your in-game experience! Check out the new ZAM Search app that will help you find whatever you need across all the ZAM websites. You can find the app on the Overwolf Appstore.
See the app in action:
Expect a new Overwolf version with super exciting features in the next week or so.
Peace out,
Viking!
Live Rounds and Heroes of Newerth Giveaway!
With the exciting new launch of Live Rounds, we at Overwolf, Rounds, and Heroes of Newerth are bringing you a super sweet giveaway. If you play Heroes of Newerth with a party where everyone  is using Live Rounds, you will all receive a 1 time, per account code that will unlock the full fan favorite Black Legion avatar set, valued at $50 USD, which includes:
Quintan the Black Legionnaire (Ultimate Avatar)
Unum the Black Legion Martyr
Dyad the Black Legion Smith
Troika the Black Legion Engineer
Tetra the Black Legion Scout
If you already have the Black Legion set unlocked on your account, you can swap it for something else, just contact us at liverounds@rounds.com.
Holy %&*, how do I get this?
Easy. Just follow the simple instructions here and get your loot!
Install and register for Overwolf.
Install the Live Rounds app located in the Appstore.
Play Heroes of Newerth with Live Rounds running.
Have your entire party in your Live Rounds video chat room.
Once you have a full room, a pop-up will show for all the people in the room with their own personal code to unlock the full Black Legion set. Some restrictions:
This giveaway is for NA/EU Only – The codes will not work if you're located elsewhere sorry!
1 code per account
Watch The Black Legion Trailer 
Hey everyone!
Boy this giveaway was fast. You all overwhelmed us and really came out for that gold!
Unfortunately, we have to close the giveaway earlier than mentioned as the 100,000 keys we were given are already in your hands. We're very sorry about having to close the World of Tanks 1000 gold giveaway early. In our next giveaway, we will make sure that both the number of keys available as well as other restrictions are properly reflected.
Thank you everyone who participated and downloaded Overwolf. We hope you enjoy both the gold and using Overwolf in your game.
See you in game!
Team Overwolf

Hey guys and gals,
Yet another version is out, come see what's even more awesome this time around:
Continue
And so the contest ends…
Developers coded, we tested and now have our winners for the TeamSpeak|Guild Wars 2 App development contest! Introducing the winners who made the best apps:
There were so many amazing apps that you should definitely all check out in the Appstore that will make your gameplay even more fun. Click here for the whole story.
Don't forget, there is the User Choice category where YOU decide which app wins $1000! Install your favorite app today and help them win!
Rock On!
Raif