Ready for change?
Everyone has their own style, and now you can show it off even on your Overwolf. You'll now be able to download custom made skins for Overwolf! These skins will completely transform your Overwolf's looks and sounds! You'll be able to find them in the Appstore under its very own "Skins" category.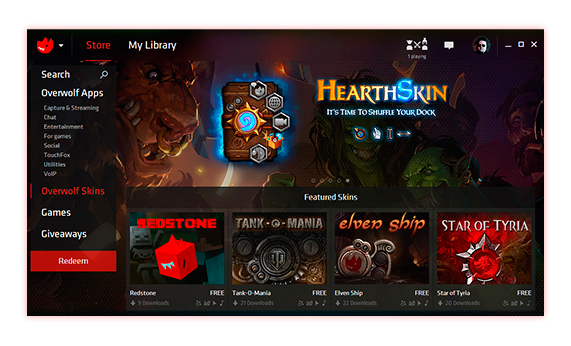 These are just some of the skins we'll be uploading to the store, and there's more coming! So if you're feeling the skin craze, hop on our Skin request page and tell us which skins you want us to tailor for you. If you've got some graphics skills, we invite you to experiment and make your very own custom skin. Find out more about how to make your own skin on the Overwolf custom skin design forum, and share with us your creation and feedback.

. . .
Last release, we updated our Twitch Streamer with some fancy new codecs and stuff. I'm betting people were wondering "What about your video recorder?" Well, we gave it an upgrade as well. You'll now get a whole new video recorder packed full with codecs, presets, and a lot of new options.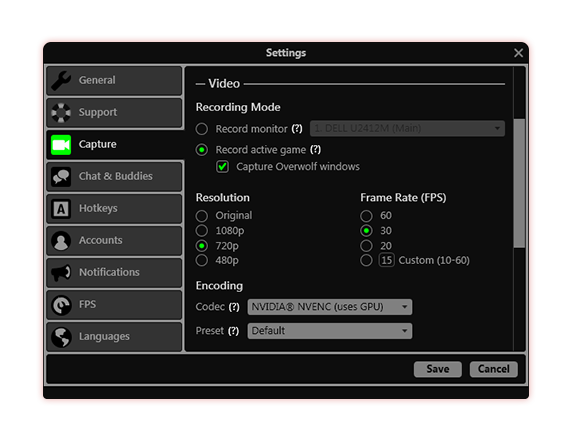 Here's the basic rundown of what you're going to get with this:
New source capture options – Monitor recording so you can record everything that happens, not just your game. We also changed how we record your active game. This mode will nowonly record your active game so if you Alt + Tab, you'll still record the game but you'll have a "BRB" screen.
New encoding options - Nvidia NVENC, Intel Quick Sync, X.264, and AMD AMF along with tons of different presets for quality!
Mouse Capture - You can now choose to show your mouse! No more invisible hands clicking everywhere confusing people watching your videos.
Device Selection - Do you have more than one microphone or have both speakers and a headset? No worries! Choose which device you want to use for your videos!
Also, from now on, all the video files will now be in .MP4 for better quality videos. Let us know on the forums what you all think!
. . .
We're always working on making Overwolf work smoother, so we've tuned up some stuff under the hood. You should notice some better performance in games. See you guys and gals in game!
Raif