Hey guys and gals,
A new Overwolf version is upon us, this time we're setting up for the big launch of our new Appstore.
Yeah, you've heard it. Google, Amazon, and Apple have those big, bright, and beautiful stores, and now – we do too!
Our old Appstore underwent a complete redesign (pretty much chucked it and remade it from scratch) and we can't wait to hear what you have to say about it (as long as it's good…)
You can now discover great apps and games much faster and easier. The content will keep expanding as we go and feature many more apps and games.
There's also quick access to your chat and friend lists and improved app and game libraries.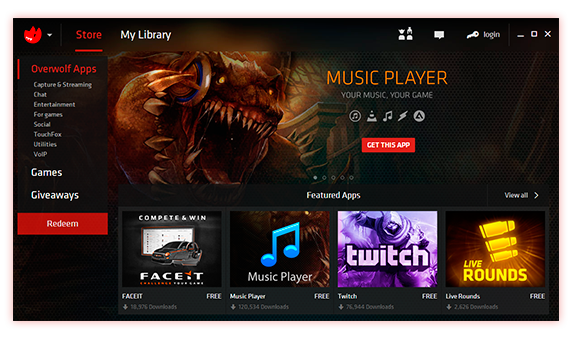 The next version will feature more updates to the store, so be sure to stay up to date!
Additional updates in this version:
Clear Hotkey button – quickly unassign hotkeys from the settings windows
Giveaway timer fixes
Many more stability and bug fixes
. . .
If all that new Appstore excitement wasn't enough, peep your eyes at this new masterpiece. Our Elite Design Squad has been secretly working on one of your most requested features.
I'm visually delighted to introduce Overwolf skins!
Although this is still a work in progress, we're releasing it to designers and anyone who wants to experiment with creating custom Overwolf skins. After gathering your feedback (and doing some more experimenting ourselves) – Overwolf skins will be available to everyone.
Find more information on the forum.
. . .
The following awesome games will be supported by Overwolf once the version is out of testing and released to everyone:
Alien Isolation
Assassin's Creed: Unity
Betrayer
Binding of Isaac: Rebirth
BioShock Infinite
Borderlands: The Pre-Sequel!
Call of Duty: Advanced Warfare
Civilization: Beyond Earth
Evil Within
Far Cry 4
Farming Simulator 2015
Final Fantasy XIII
Final Fantasy XIV
Fly'n
Gauntlet (Win 7 only)
Goat Simulator
Heroes of the Storm
Killing Floor
Lord of the Fallen
Mortar Online
Naruto Shipuden: Ultimate Ninja 3
NBA 2K15
Papers, Please
PES 2015
Prison Architect
Project Zomboid
Quake Live
Risk of Rain
Sleeping Dogs: Definitive Edition
Styx: Master of Shadows
Super Splatters
The Hunter
The SIMS 4
The Vanishing of Ethen Carter
Wrack
. . .
Keep on keeping,
Viking!