Waddup playas and playettes?
In this version, we have some #swag updates to Overwolf.
The sickly, weird looking tray icon, and his partner in crime, the boring, gray tray menu have been awarded the fugly awards, with the prize being a pimpin' fresh makeover.
We took them out to the gym for some shaping-up, slapped a fresh coat of paint and buffed them out to a stylish mirror finish, so haters can see their hatin' reflection in it #Steeze.
Besides making them absolutely beautiful, we've also worked on their personality. The tray menu now features a more relevant set of features. The most exciting addition is a list of recently played games, and it's not just for looks, you can launch them right from the menu!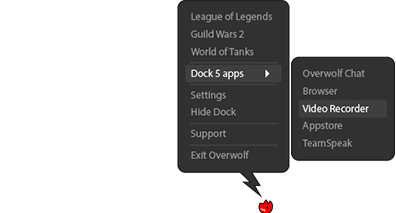 Additionally, you can now choose whether you want your in-game links (as in links that are part of the game) to open in your default browser or in the Overwolf browser, KAPOW.


Finally, we've hidden something on the Appstore for you to try out before we officially release it, can you find Waldo?
Speaking of project "Waldo", it's the reason this version isn't exploding with features. It has taken us days and nights working on this one, and we'll be announcing it on the next version.
I'll offer a small hint – "Waldo" is also hiding in the image at the top. Now, can you guess what it is?
. . .
The following new games are now supported by Overwolf:
America's Army: Proving Grounds
Assassin's Creed IV: Black Flag
Forced
Brothers: A Tale of Two Sons
Metro: Last Light
Monaco
Outlast
Pro Evolution Soccer 2014
Resident Evil: Revelations
Rogue Legacy
The Mighty Quest for Epic Loot (Beta)
The Stanley Parable
The Wolf Amongst Us
Shogun 2
State of Decay
Broforce
Final Fantasy VII
. . .
Discuss this update on the forums
We brought in a special guest for the closing speech, read his words of wisdom below.
- Viking!
#TEAMOVERWOLF #THEFUTUREISHERE