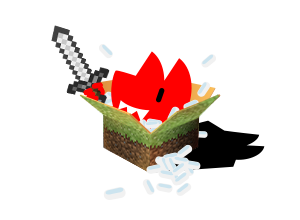 'Ello Lads and Lasses,
They finally let us go out into the sunlight since the last version release. That means it's time for a new one! As I start losing my Casper colors, I'll tell you what goodies are waiting for you in this lovely version
For starters, we've heard that you're missing Overwolf in your x64 games, so we became best friends with them!
You can now use Overwolf with World of Warcraft, Minecraft and Aion, in their 64-bit versions. Be sure to say hi and wave frantically at the dock when you see it in-game
Remember the amazing TeamSpeak release? We're not done yet…
New TS features in this version include:
Dedicated hotkeys for the TS Channel (Ctrl+Shift+H by default) and Full TS (Ctrl+Shift+T by default)
Support for custom nicknames in the TS Channel
Additional TS fixes and enhancements
Continuing down happy lane, you asked for it, and we delivered. Winamp has been added to the Overwolf music player.
It's now possible to control Winamp, from within the game (in addition to the other players)!
. . .
If that's not enough for you, the cherries on the huge mountain of whipped cream are:
A new dock behavior. A bunch of you didn't like how our dock behaved (and we agreed), so we took our do(g)ck to the trainer, for some lessons in manners.
You can now go to the settings and choose whether to auto-show the dock when entering a game. Additionally, hiding it during a gaming session will keep it hidden until the next game you enter
The chat (and other windows with text input) will now receive proper focus on hotkey press. That means you can hit your chat hotkey, tell to whoever is bothering you to GTFO, hide the window and continue hauling ass
We continue making your in-game life easier, saving you the precious time of alt-tabbing to the desktop. This time we developed the ability to access in-game links through the Overwolf browser! That means that all those annoying "forgot password" and "sign-up now" links won't throw you out of the game and into IE6 anymore. You're welcome
Mortar Sniper, GW2 Guides and GW2 WvW Galbar Timers apps have been updated
To wrap it up, here are the newly supported games for this version:
MechWarrior Online
War Thunder
Rome Total war II
. . .
Discuss this update on the forums.
Keep likin' dem mudkipz,
Viking!