Hey guys!
Here we are again to drop you some Fantastic news!
So hold onto your seats.
Game Summary
DOTA 2 Game Summary support - We did it! We finally made it! And now DOTA 2 in-game events can be viewed in the game summary, so now you can finally save and rewind all your glorious kills as well as your shameful deaths! So go and try it out and let us know what you think.
DOTA 2 GIF Replay Support - In the event you haven't downloaded Replay HUD you can now view your replays in the Game Summary in GIF form.
LoL Assist Events – When your match has finished the Game Summary will display all of your assists which is perfect for some after-game reflection.. Or just see how such a good team player you are!
Bug Fixes
Dock Drag 4K Fix - When the dock goes below screen boundaries as it was being dragged from a 4k screen to a 1080p screen it would suffer issues, this issue has now been fixed. We have also resolved some inaccurate dock positioning while dragging.
Work in progress
We have been hearing to a lot of player requests and are currently working towards the following:
Rocket League in-game events – capturing goals and saves will be re-playable and be integrated into the Game Summary.
LoL Garena – We are now working on fully supporting LoL Garena, the LoL client for South East Asia
Hey guys! We have made some updates and bug fixes, you peeps should probably check it out.
Game Compatibility
Rocket League Game Events – Overwolf now recognizes in-game events such as Goals, Assists and many more, here's a full list. These events can be used for developing new apps, and for use in Replay HUD and the Game Summary, stay tuned for more to come!
Client
Web Browser update – you can now click on links that open a popup window.
Tray menu not working on startup - A few of our users reported that when they tried to boot their PC they were unable to open Overwolf from the tray icon, this issue has been fixed.
Replay Hud
Excluded LoL champions – Replay HUD should not capture ults of certain champions in League of Legends (Champions who can frequently use the Ult R Key such as Teemo). We have fixed a bug that caused unnecessary captures
Game Summary
Temporary Performance fix-  Due to a performance issue some users have been experiencing, we decided to reduce the size of the Game Summary window. In order to improve stability we have also disabled the maximize button. This is only a temporary fix and we are currently working on improving the Game Summary's performance.
Overlay
Overlay fail fallback – If the overlay has any errors it will now automatically fall back on other techniques to ensure that the overlay will run without fail.
Stay Classy.
Kenny.
Getting tired of the same old announcers? And want to spice things up and have a bit more fun?
Then be sure to download Killer Voices and add some personality and hilarity to your games.
There are lots of voice packs available from the get-go such as Arnold Schwarzenegger, The Simpsons, Team Fortress 2 as well as Quake and many MANY more on the way.
The app is currently compatible with League of Legends, Counter Strike Global Offensive and will support DOTA 2 and Overwatch among many others to be added in the near future.
We are also proud to present a whole new bunch of voice packs from famous eSport personalities such as Sneaky from Cloud9 and as well as the fabulous Dyrus.
So without further a mention, check out killer voices here, be sure to download it and give it a try! Check out Killer Voices in action in the video below!
Thanks for viewing guys!
Game on!
Kenny

Greetings fellow gamers,
Today we're proudly introducing a new logo! Why are we doing this now?
As gamers, our mission at Overwolf has always been to build a platform of apps that is helpful, and makes gaming even more exciting and fun. We started out with apps that help you stay in-game, like the Browser, Music player and TeamSpeak Overlay.
Together with you, we've been watching the gaming industry evolve, and were blown away by the rise of eSports and competitive gaming. Thanks to your feedback, we started focusing on apps that help you improve your skills when playing competitive games. Apps like Replay HUD, LoLwiz, HearthArena Companion, CS:GO Stats, DotaPlus and many more.
It was your amazing response to these apps, and their wide adoption by renowned pros like Sneaky, Kripp and NB3 to name a few, that gave us the confidence to redefine our mission – Overwolf is here to help you become a better gamer!
To help us reflect this evolution, we felt that our logo and tagline should evolve as well.
So here is our new logo. We like to think of it as a cross between a super-hero and a warrior-wolf. It's your fierce teammate that is always there for you at the right moment, helping you get the job done.
Our new tagline is "Enjoy winning": "Winning", because it's our goal, and "Enjoy", because the road to victory is just as important.
I'd also like to take this opportunity to personally thank you for being a part of the Overwolf community. Your ongoing feedback and support have been driving us to constantly improve our platform, as we continue the journey to make Overwolf the best in-game companion for you.
Yours truly,
Uri Marchand,
Overwolf CEO
Greetings, Overwolvers!
We released our latest version which introduces some really cool features and updates to our video recorder.
When recording video, you can now minimize the video recorder so it won't interfere with your gaming experience.
If you choose to minimize, you can select which indicator will be shown or choose none, as well as its' location on the screen.
By default, the application or its' indicators will no longer show up on your recorded video.
You can play and familiarize yourself with the new features under the settings menu – Capture tab.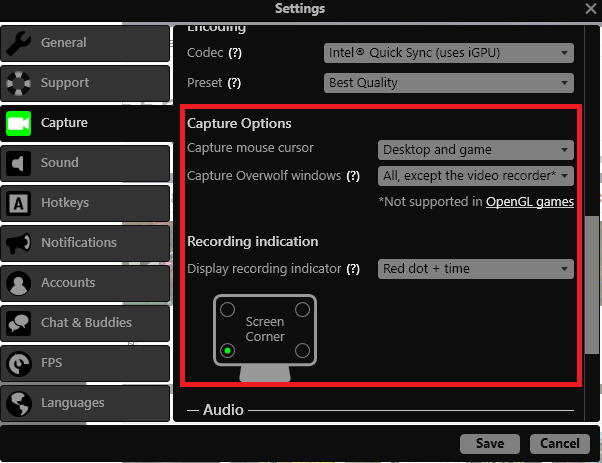 We also fixed some bugs and improved performance and stability issues.
Go play!
Jareth

Sawubona abafowethu nodade! Another quick update for ya.
This one is super technical and "behind the scenes", so there's not much to share besides the usual "stability and performance fixes". But we're working on something big, so stay tuned!
The following games are now supported by Overwolf:
Call of Duty: Black Ops III
Fallout 4
Kingdom Rush
. . .
Discuss the update on the forums

Until next time,
Viking!


Hola! It's yet another Overwolf update.
This time it's short, sweet, and full of yummy bug-fixes. Continue

Another video recording update!
In our effort to up the stability and reliability of Overwolf, we made this update all about the video recorder. We pushed some serious work into our Game Capture and squashed quite some pesky bugs for you all. Continue

More video recorder updates!
Our newest update to Overwolf is a relatively small, but important. Continue

Introducing new TeamSpeak Skins!
Welcome to the next stage of our skin program, TeamSpeak skins!
Continue